1. Plan
You just specify date, location as well as job description and we send your job to all hostesses and promoters in our database.
Your booking request is risk-free and without any costs. If we have any questions, we will get back to you within 30 minutes.
2. Select
Within a few hours we send you a selection of available staff profiles who explicitly stated interest in your job description.
Compare staff profiles by experience, education, languages, pictures and costs. You can book suitable profiles directly online.
3. Work
The staff enter into an employment relationship with InStaff – in case of illness we will replace the staff without any additional costs.
If you have any questions you can contact us 7 days a week. We will make sure that the booked staff works to your complete satisfaction.
4. Complete
After the service, you will receive a bill including the gross wage plus a 43% surcharge. No other costs arise.
We also love to receive a feedback / rating from you regarding the quality of the staff as well as our service, to help us improve.
High customer satisfaction with our staff booking process
InStaff guarantees very high customer satisfaction. After every event our customers can review our service via the feedback provider eKomi. Some of the reviews are translated from German to English for your convenience.
Here you can see 10 customer reviews from our English customers for our staff and our booking process with an average of 5 out of 5 stars.
We achieve this high customer satisfaction via an easy to use booking process, by maintaining our own database of experienced helping hands and because of our great customer service.
OVERADE for EUROBIKE 2023
The website works efficiently to book qualified staff. We can also have direct contacts with people if needed so nothing else to declare, except that I recommend this company. (5 stars on 10.07.2023)
visuals united AG for Best of Events 2019
We used InStaff several times to book hostesses. It's actually running quite well and uncomplicated on the portal. Important is the backup staff, in case someone cancels, because unfortunately it is a quite common case with hostesses. (5 stars on 15.02.2019)
Fechter Drive Motorsport GmbH for INTERMOT 2018 in Köln
We were completely satisfied with the service of InStaff - simple and understandable processes, transparent cost structure and friendly account manager. We would always book event staff again via this platform. (5 stars on 09.11.2018)
EventBar Pirschheide for Konzert The Clogs
Easy and understandable booking of staff! Very good and friendly service (5 stars on 08.11.2018)
Herrmann Geschenke GmbH for Verkauf
Very friendly and, above all, finally an active support in the selection of staff. We will definitely book again at InStaff. (5 stars on 07.11.2018)
SecuLution GmbH for it-sa
For three years now, we have been booking hostesses and promotion staff for InStaff throughout Germany and are very satisfied. We had because of the Nachrücker concept still no cancellation and even with short-term requests you have the choice of a very good pool of staff. Absolutely recommended. (5 stars on 05.11.2018)
mc-quadrat OHG for Servicekraft Konferenz
The service of InStaff was very positive. Proposals from service staff came quickly and with great choice. It was always pointed to the next step and sent draft text that I could forward almost without change and with little effort to the staff. I am very satisfied with the service and will definitely book again. (5 stars on 31.10.2018)
Webtonia GmbH for Berliner Food Week
Through Instaff you can quickly and easily book staff. Have only had positive experiences so far. The booked staff was always punctual, reliable and friendly. (5 stars on 22.10.2018)
SHOEI Europa GmbH for INTERMOT 2018 in Köln
We would book staff again at any time through InStaff. Very professional and very uncomplicated handling in all areas. (5 stars on 16.10.2018)
Deslab GmbH for IAA Nutzfahrzeuge
We would book at any time staff through InStaff. Very professional whether on the phone as advice and help or the booked staff. (5 stars on 12.10.2018)
Exhibitions & events
Manage concerts, exhibitions or events with several hundreds of hostesses and stagehands. Define different job roles (lead hostess, shift leader, etc.) and communicate with your staff via the online project chat.
Catering jobs
Book waiters, waitresses and barkeepers via InStaff - for a couple of hours or up to several weeks. The staff profiles list all relevant experiences, language proficiencies and qualifications such as a drivers license.
Promotion marketing
Manage promotion and performance marketing events in different cities. After each job you can review the performance (number of flyers, interviews or bookings) of the staff and analyze the data directly online.
Models
You can see up-to-date body measures and a wide variety of images for each model. We also make sure that you get the copyright for the pictures that you take of the model during the job.
Retail & sales assistants
Our temporary staff is well suited for retail and sales jobs, e.g. for stock-taking on the weekends or to help out at your outlet during the week. And if you like to use the staff again, you can rebook a profile with a few clicks.
Office / call-center
For call-center as well as customer support jobs, we have a training program for our staff that includes claim & complaint management, handling customer requests and many more.
Manage different jobs and roles
You can define different tasks within your event (e.g. service, catering, reception) and different roles (stagehand, teamleader, chefhostess, etc.). The job overview shows you which profiles are available for which tasks, so you can assign your jobs to all available profiles directly online.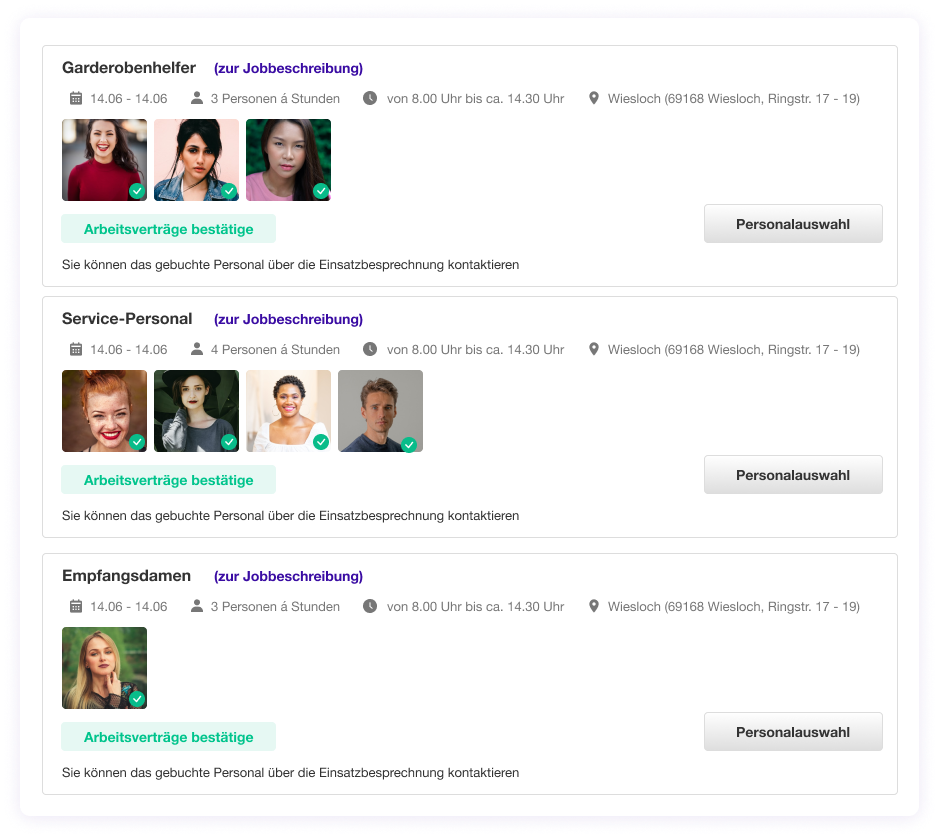 Do you have any questions or additional requirements? Please feel free to contact us anytime: